Professional Carpet Repair Auckland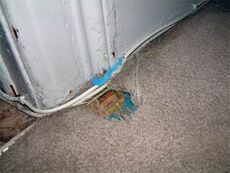 Carpet damage is typical. Since 1987, we have provided premium carpet repair services throughout Auckland, North Shore, East, and West Auckland. Indeed, we have solutions for visible seams, carpet stretching, flooded carpet drying, or patch repair.
Furthermore, your carpet is the primary and most common part of home décor. And it helps enhance your home's look with a comfortable and safe space for you and your family. But be careful when you have kids and pets, as many things in your home can damage and make your carpets lose their beauty and form.
5-Star Auckland Reviews
Auckland Steam n Dry Reviews
Auckland Carpet Repair Services
Generally, our Steam n Dry Carpet Damage Repairs Auckland technicians are bound to our strict Code of Honor. Hence, they are thoroughly vetted, insured and must have 12 years of carpet repair experience. In addition, the company owner handpicks every Steam n Dry Carpet Repairs Auckland Service professional. Indeed, we ensure that the person you invite into your home is trustworthy, professional, and reliable.
Therefore, contact our office by phone for an accurate in-range Auckland carpet repair estimate. And we will quickly dispatch a carpet repair technician to your place.
Moreover, Carpet Repair is a general term for fixing the damage accumulated through wear and tear and accidents. Even though our most common repairs include wrinkles or ripples, burns, stains, fading, and tears, they are all a fact of life. With flooring, proper carpet repair can bring them back to life.
Expert Carpet Repair in Auckland is challenging, but we make it smooth and painless. Our carpet repair solutions will take care of your many issues. Often a repair will include some carpet patching.
We can care for bleach stains, carpet burns, pet damage, and other problems using the best techniques for carpet damage and other issues. Without a doubt, we have the knowledge, experience, and specialised tools. All we need from you is the spare carpet.
In cases where there is no carpet to spare, we can take carpets from an inconspicuous area. For instance, the back of a closet and swap the two regions.
Carpet Damage Repairs & Restretching Auckland
If your carpet has sustained damage and needs repairing, we can provide the remedial assistance you need. Our certified Specialists have earned a reputation for professional carpet damage repair and restretching services.
We pride ourselves on responding to requests quickly, using the latest equipment to repair your carpet damage. It is our interest to provide an affordable alternative to costly carpet replacement.
Experienced, researched, and written by Graeme Stephens. Updated 29/04/2023