About Us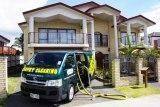 Auckland Steam n Dry Carpet Cleaning has spent over 35 years providing Auckland with a cleaner, healthier, germ-free home or office. Here is "about us" We started in 1987 with our CEO Graeme Stephens as a Japanese car upholstery and carpet cleaner for car importers and sales yards. He began dry carpet cleaning in 1990 and steam cleaning in 1992. He then added proprietary equipment. It includes the superior truck-mounted hot steam extraction cleaners 1996 recommended by the world's largest carpet manufacturers.
Due to popular demand, what's unique is that in 1998 Auckland Steam n Dry became the largest privately owned carpet cleaning company in Auckland and served in South, North Shore, East, and West Auckland.
Above all, our goal is to satisfy our clients by treating your homes as our own by giving superior customer service. Likewise, we're confident you'll gladly recommend our services to your friends and family. Our experienced professionals are experts in flawless cleaning to accomplish various tasks through uncompromising integrity and precise attention to detail.
"About Us" – Our Carpet Cleaning Equipment
Why is a Truck-mounted Machine the best carpet-cleaning equipment?
Steam n Dry Carpet Cleaning Auckland services use an exclusive' 10-Step Deep Cleaning Process' powered by self-contained truck-mounted units. These truck-mounted units provide thorough, deep hot water extraction (steam) cleaning by consistently high-temperature freshwater and powerful vacuum suction.
Our Superior Truck-Mounted Cleaners Use 80°C Hot Steam Kills Coronaviruses, SARS, Bacteria, Dust mites, and Pathogens. For the best carpet cleaning, Auckland Results uses propitiatory performance truck-mounted equipment.
We can remove tough stains that other methods leave behind because these truck-mounted units provide a faster drying time (eight hours or less). Therefore, the result would be deeper carpet cleaning. Our technicians can ensure that you return to your home in South Auckland, North Shore, East, and West Auckland to clean carpets with no excess moisture or sticky residue.
Our Products
Indeed, we use the most effective, citrus-based, environmentally friendly cleaning products. They will also keep your family and pets safe inside and outside your doors.
"About Us"- Our Aim For Satisfaction
At Steam n Dry Carpet Cleaning Auckland service, we have invested heavily; to equip our team of professionals with the highly advanced equipment and technology to deal with a wide range of carpet issues.
Indeed, your carpets are a significant investment in your home, so maintaining them is necessary to keep them looking new. Usually, a build-up of soil and grit can reduce carpet life and lead to a high carpet repair cost. Of course, our products are ready to treat all types and conditions of carpets. And our specially formulated products can remove all common stains.
Lastly, what's best about us is that we have the experience and knowledge to do even the most complex cleaning job. Indeed, qualified Steam n Dry Carpet Cleaning professionals persevere in offering our customers the latest in our field. We are always learning and educating ourselves with cutting-edge cleaning technologies and practices. In other words, this ensures that anyone who calls Steam n Dry Carpet Cleaning Auckland will be 100% satisfied. Thus, we are licensed, bonded, and insured for your protection. Contact us now, 09 377 9044
Experienced, researched, and written by Graeme Stephens. Updated 27/04/2023